Birch Hills Sportsgrounds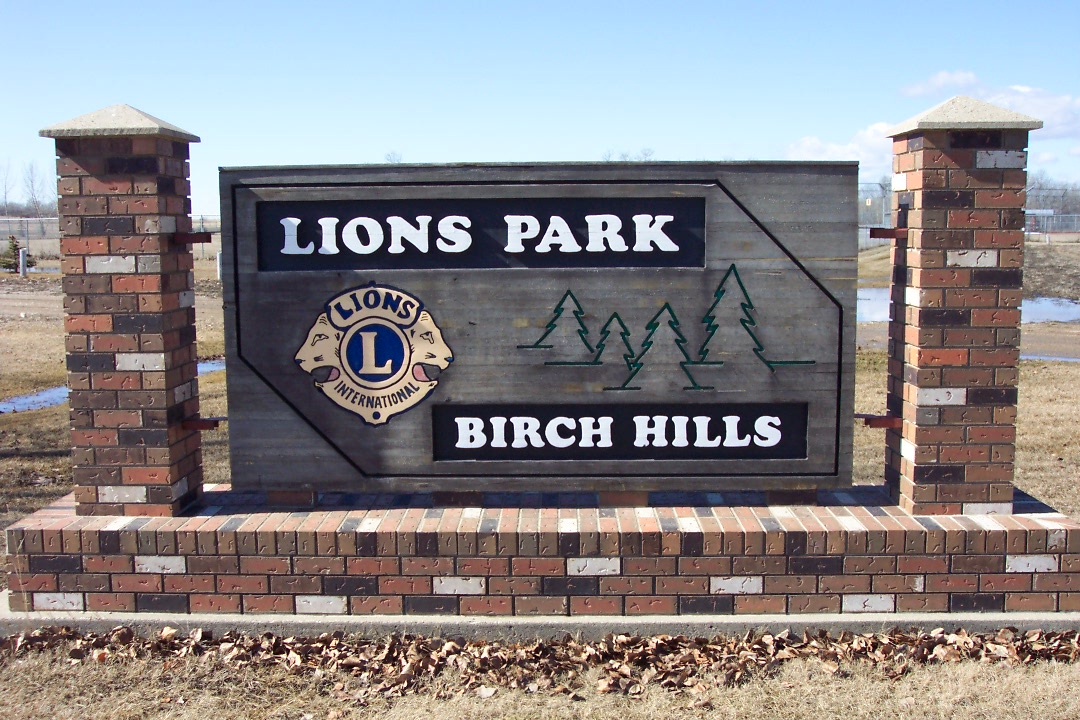 Camping
The Lion's Park Campground is located between the Birch Hills Golf Course and Lions Ball Park. There are six electrified sites built up on gravel pads. The power service can accommodate a few more units if groups are willing to share power access and gravel pads.  All camping units (excluding tents) and associated vehicles must be positioned on the gravel pads.  The electrical service is 50 amps, and available on six pedestals strategically located between each site.  Each pedestal can accommodate 15, 30 or 50 amp plugs.  Non electrical sites are also available on the North West side of the sportsground property.
All six sites come complete with picnic table, pole barbeque, water service and sewage dumps. An ample overflow area is available where tents can set up on the grass. No additional services are available in this area.
Firewood is provided for Sportsground users.  This wood must be used on site and cannot be removed from the property.  There is also one large group fire pit which is available to all sportsground patrons.  It is located under the light directly North of site 6.
Large trash bins are located East of the washrooms.  In addition garbage cans are strategically located in the campground and around the adjacent sportsgrounds. There is one washroom building with two separate bathrooms. Each bathroom has a toilet and sink with cold running water, paper towel, and toilet paper. Water is from the Town of Birch Hills municipal source and is safe for drinking. A faucet and hose are located on the outside of this building where campers can fill up their RV units. Campers are also welcome to dump sewage into the 1000 gallon septic tank when vacating their site.  Non campers are required to pay a fee at the Golf Course Clubhouse prior to dumping.
Advance bookings can be made by contacting the golf course clubhouse (April – October) at 749-2211. During the operating season, all campers must stop at the golf course clubhouse prior to occupying the site and obtain their camping permit. For off season bookings/payments contact Recreation Department at 749-7451
**Weekly, monthly and off season rates are also available if booked and paid in advance.  Please contact the Golf Course Clubhouse or the Recreation Office for details.
Lions Park Ball Diamonds
The Birch Hills Sports Grounds are located half a kilometer North West of Birch Hills on the highway #3 access road. The Lions Ball Park features three quality ball diamonds complete with shale infields. The Park includes a picnic area with camp kitchen, 6 full service campsites, 2 non-electric campsites, concession stand, playground area for kids and horseshoe pits. Minor Ball Girls and Boy teams in Birch Hills compete in the Prince Albert Leagues during May and June. A beginner "Toss Ball" League is organized in May and June for children 5 – 9 years of age. Slo-Pitch and Minor Ball tournaments are held at Lions Park. Drop in Slo-Pitch is offered Fridays at 7pm.
Parking and drop offs for Ball Diamond users and spectators is provided East of Diamonds 1 and 2.  Parking or dop offs is not permitted in the campground area, by non-registered campground guests, around the bathrooms or in front of gates.  Please respect and follow signage in the regard.
Contact the Recreation office for other inquires or to book the Sports grounds for your next family/work gathering or tournament.  For tournaments wanting to have a beer garden, please remember that permission for this must be granted by Town Council.  As this takes some time organizers must ensure they have their requests submitted in time for a council meeting in advance of their tournament date.
email – birchhillsrec@sasktel.net or call 306-749-7451